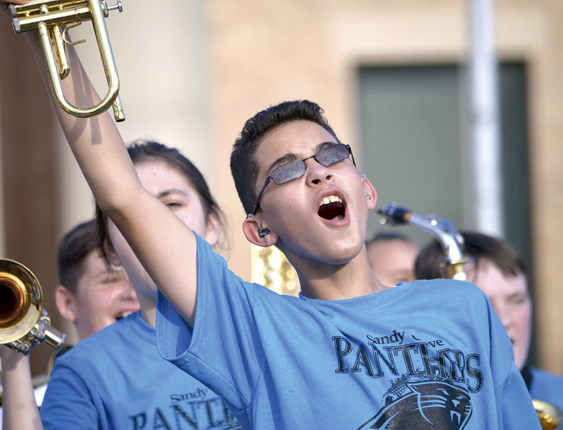 A trumpet player from Sandy Grove Middle School enjoys the N.C. Fall Festival parade last Thursday. (Catharin Shepard photo)
Subscribers! Read the entire News-Journal online as early as 10:30 a.m. Wednesday!New! Try the News-Journal for just 99¢ for the first month-Begin reading immediately!

September 20-27, 2017
***If needed in the coming weeks, find Hoke hurricane information here***


Big Hoke High reunion to draw from 1000 miles away

Commission race heats up

Festival greets fall with summer weather


Driver dies when car fishtails on N.C. 211, hits truck

Obituaries

(updated daily)

Place Classified Ads here to reach 30,000 readers.



Legal ads appearing in the printed version of The News-Journal can be
viewed here as a PDF file.

Subscribe to the print edition, and get online access to the entire News-Journal.

Numerous other stories


School news


District and Superior Court records


Real Estate Transfer


Weddings, Engagements


Births


Other Stuff


Letters to Editor


Local columns


Police blotter


Obituaries


Community Calendar


Legal announcements


Sports


Shopping opportunities

Subscribe

(this page updated *almost* every Wednesday)